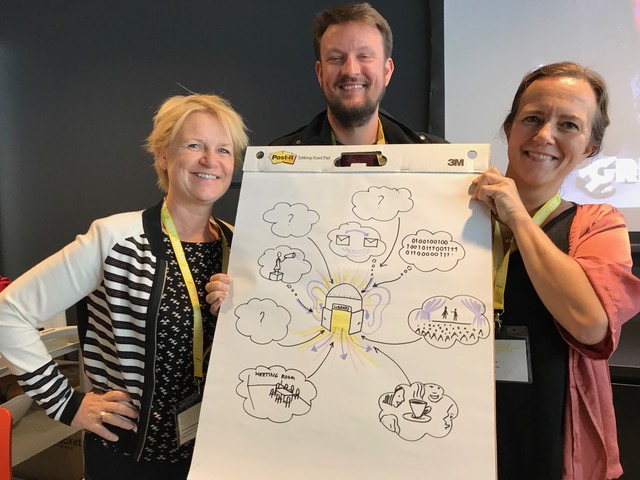 NEXT Library 2017
Of course, you can take the escalator from the car park up and into the cavernous ground floor of Dokk1. But, at least once, it is worth taking the stairs. Although vertiginous and narrow, the stairs afford sweeping views of Aarhus Harbour and the City's ongoing reclamation of its waterfront. The crab-like ascension also gives you time to pause and reflect on the scale, commanding position, and ambition that frame this extraordinary public library and citizen centre. A bit like the external garden-facing stairs nestled into the Sydney Opera House, designed by that other Great Dane Jørn Utzon, climbing the stairs of Dokk1 feels like entering a temple. And it is a kind of temple; a 21st century temple to civic experimentation.
Gathering place for a city
Opened in 2015, it took over a decade to be built. Interwoven with the Aarhus Library is a citizen service centre, innovation studios, a cafe, meeting rooms, a small theatre, terraced stairs that convert into a amphitheatre for talks and performance, lots of stuff for kids to play with and on, spaces to read and study, and places to make a mess. If ever there was a built form that embodies the hopes, aspirations and potential of a city and its citizens, it is Dokk1.
And, having secured a now lauded icon, the biennial
Next Library Conference
is, in some ways, Aarhus's gift to the international library community.
As a conference, Next Library 2017 was definitely conceived with verve, competence and humour. The content was eclectic, rich, expansive and useful. The aesthetic was Nordic, of course; understated and elegant. The food was great. The design ethos was playful and maximised opportunities for conversation. I enjoyed all of the keynote talks, the breezy Ignite Ideas sessions, the workshops, and the opportunity to meet so many committed, socially engaged people from around the world.
Here are some highlights.
A radical royal
HRH Princess Laurentien from The Netherlands, a passionate advocate for literacy and learning, argued for 'radicalism with a heart' and placed libraries at the centre of this proposition. She urged public libraries to loosen up a bit and move beyond a 'serving mode' into more of a 'co-creating mode'. While I struggled with the idea of a royal claiming to be a radical, she nevertheless made insightful comments about sharing what you don't know in order to harness what other people know. Let go of being an expert, she exhorted; something which is hard for leaders, the librarian mindset, and adults in general to do.
The ethics of hacking
Phillip Schmidt from MIT Media Lab talked about hacking and innovation. Fortunately, he wasn't a 'hack' himself. No trite comments about the importance of 'disruption' here. Instead, Schmidt infectiously invoked a spirit of playfulness and an invitation to be 'disobedient', but within an ethical framework. Continue to offer spaces like Dokk1, he said, in which anything can happen. Schmidt also uttered one of the most quotable memes of the conference when he said 'you can't fail in a library', which, of course, went viral.
Civic literacy
Peter MacLeod gave a masterful synthesis of the challenges facing contemporary democracies. A citizen engagement expert from Canada, MacLeod had obviously been involved in Dokk1's long gestation.
Healthy democracies are learning societies, he argued. The current market-based trajectory we are on has produced growing inequality and weakened civic decision-making. We need a new 'recipe for radicalism'; a 'massive campaign' that reclaims the 'public' as a resource, that legitimises civic infrastructure, and helps restore trust and cohesion.
We need to practise the skills of democracy, MacLeod argued, and we need neutral, civic spaces in which civic decision-making can occur.
Democracies, therefore, need libraries. Libraries provide a civic commons to complement the digital commons; but they need to extend their role from organising knowledge to organising communities. Shaping a kind of 'civic curriculum' that would foster civic literacy, is something libraries should be part of. But it will take audacity, Macleod argued, a capacity to understand and confront the pressures on democracy; a kind of moral and intellectual imagination.
So, there is a theme here. All the keynote speakers encouraged libraries to be bolder, more radical in their aspirations, audacious in their confidence, and deeply embedded in their respective communities.
Be audacious
The overarching message I took from Next Library 2017, and from spending a few days at Dokk1, is that the argument for the radial benefits of pubic libraries has largely been won. Of course, this is provisional; it is unevenly distributed, and it is always contested. But, think about it, in many parts of the world today there are multipurpose, architect-designed public libraries claiming a preeminent place in civic life and the collective imagination. The next wave of advocacy and action seems to be around stretching the boundaries, confounding stereotypes, taking a few risks, and proving that community resilience is nurtured through the shared stewardship of public things.
This requires inventiveness, as Dokk1 illustrates, and an unerring commitment to porosity when it comes to community partnerships and conversations. It is also political, but not necessarily in an activist way.
Beyond romance
I'm trying hard not to romanticise Danish society; am acutely aware of the neoliberal traps the country has tripped over, just like every other country. The TV series Borgen has taught us all about those traps!
But, there is something special about Denmark. And it isn't just the fashionable focus on hygge.
There is a combination of permissiveness and trust that is evident from the moment you arrive. It's evident in the bicycles strewn chaotically on every single street; it's evident in the respectful way kids are treated; it's evident in the way gay and lesbian couples can walk hand-in-hand or kiss on busy streets without any seeming fear of hostile attention; it's evident in the
sophisticated and poetic language
used to describe the purpose and meaning of Dokk1 itself.
If the medium is the message, then the way a City goes about engaging its various communities, brokering new partnerships and possibilities, and animating the creativity of its people, can become a cultural and learning experience in itself. It's clear that Dokk1 is the product of such a process and a vector for so much more.
Fact file
Dokk1 was designed by Schmidt, Hammer, Lassen
Next Library 2017 took place between 11-14 June 2017
There were 350 participants from 38 countries
I was thrilled to co-facilitate a workshop called Creating Culture with my talented colleagues Patti Manolis, CEO Geelong Library Corporation and Jenny Ruffy, Manager Information and Arts, Monash City Council. The photos below are from the workshops we ran. Thank you to the people who participated and produced the Aarhus Manifesto.