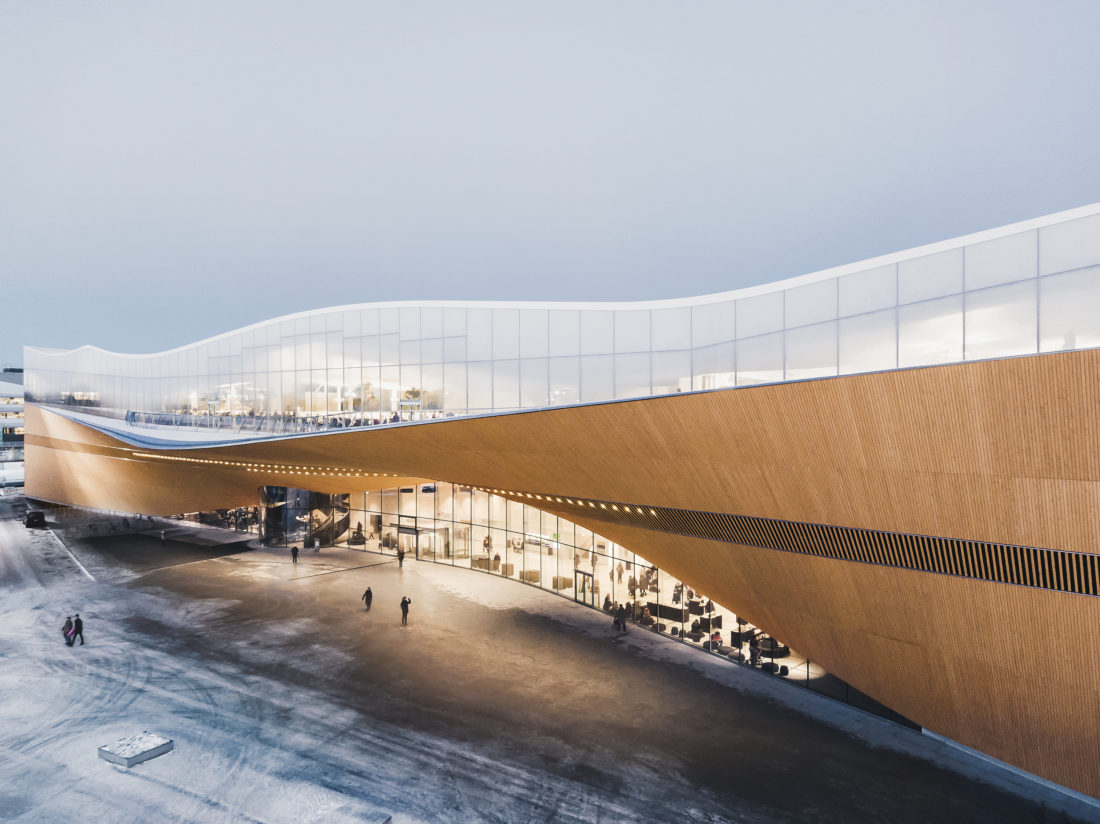 Ode to Oodi
Oodi Helsinki City Library is an unequivocal civic triumph, a temple to democracy when democracy itself is threatened.
Since it opened in December 2018, Oodi has welcomed over three million people. The 10,000 square metre building was a birthday present to the city to acknowledge 100 years of liberation from colonial rule, first Swedish, then Russian.
How apposite that Oodi looks out over a large civic square to Parliament House, an architectural relic from another era. This is the real 'people's palace'. This is where civic experimentation is taking place on an epic scale.
I spent five days at Oodi in September 2019.
Book heaven, level three
Everyone can coexist here. People roam the space, stopping to read a newspaper or sit at the huge computer screens, touch responsive and loaded with the latest multimedia software. Teenagers, with their ubiquitous Marimekko tote bags, are clustered together on the floor, like a flock of feeding birds, nestled into the angled edge of a sloping platform that reaches for the Finnish sky. Children arrive in school groups, or with parents and grandparents, running up and down the sloping planes; uninhibited, joyous, making up games, full of beans.
There are endless tour groups; an endless induction into the best that democracy can offer. Hijabs, beanies, fedoras and kerchiefs; scarves, puffer jackets, raincoats and African textiles; all ages and cultures; eyes wide in wonder.
The ceiling of Book Heaven swoops and dips like a rolling cloud bank. It is probably a nod to the undulating ceiling of Alvar Aalto's famous Viipuri Library (1935). Living trees in large pots bisect Book Heaven, nine in total, creating a boulevard effect right down the middle of the space. It is never silent, but nor is it noisy. The light pours in, and, on a sunny day in Helsinki, people lounge in comfortable chairs on the outside Citizens' Balcony, soaking up the sun, looking out across Kansalaistori Square to the empty steps of Parliament House, with its forbidding solidity and faux Athenian columns.
The internal lighting is subtle and clever, like a seductive department store. While the space itself is dappled in blonde spruce, white and touches of grey, the lighting embedded in the book shelves is so good that it turns book spines into lively swatches of colour. And there is art, lots of it.
There are nine specially commissioned art rugs, which reference Finnish literary classics and help delineate living room-style nooks in an otherwise expansive space. There are public art pieces from the Helsinki Art Museum's collection that peek over book shelves and appear in unexpected places. Spatial and video art are represented as well.
Otto Karvonen's installation Omistuskirjoitus ('Dedication') is emblazoned on a spiral staircase that traverses all three levels. City residents were asked to dedicate the new library to groups of people of their choosing. It is worth reading the English translations here. My particular favourite is 'Weltschmertz sufferers'.
A video work by Jani Ruscica called Hope is the thing with feathers, a line from an Emily Dickenson poem, features short videos and soundscapes of birds that once nested in the Töölönlahti area and were displaced due to development.
These various artworks are sympathetically placed throughout Oodi, enhancing a sense of intimacy, surprise, love of nature and complexity.
Urban Workshop, level two
Now I'm perched, legs asunder, on the wide, carpeted steps on level two or Urban Workshop. Huge spruce beams intersect the space. There are lots of school kids here, sitting together with their high-vis vests and backpacks; rolling the plastic cushioned boxes, used as seats and laptop tables, on the platform behind me; building a private nest, having fun. The Urban Workshop has meeting, gaming, study, collaboration and maker spaces, which are all full. There is a 3D printing studio, sewing and embroidery machines, laminators, soldering equipment, high end media production suites, recording studios, mirrors, ironing boards, kitchen, and an endless variety of chairs, sofas, pods, rocking chairs, and soft wooden floors in which to sit, drape, lounge and sleep. There is the luxury of space, close but not too close; a Nordic sensibility, an invitation to craft whatever space one needs as long as it doesn't impact on others. And when that happens there is a gentle intervention by librarians or security guards. It's not anything goes here, but the parameters are wide.
The Urban Workshop also contains bookable pods, micro meeting rooms, and a quiet, enclosed reference room. The reference room is a great place to work. Inhabited mainly by university students, everyone has a laptop or iPad, a few reference books, some writing material. There are comfortable chairs, desk lights, power points, coat racks, and silence. No one talks; everyone is concentrating. The mental energy generated here could power the whole city.
Civic Square, entry level
The entry floor and mezzanine areas host a multitude of options. A cafe, cinema, library and information services, a European Union information counter, display areas, conference facilities. It's always busy. Like the civic square and park outside, there is always movement and ideas.
It took me about three days to realise that there was more to the ground floor than I had originally taken in.
Oodi itself is the culmination of iterative community conversations, research and participatory budgeting exercises stretching over ten years. It was a co-design effort. Thousands of dreams, hopes and needs were transmuted into Oodi's striking and responsive material form.
On the mezzanine floor, called Brygga, I discovered a conversation that never ends.
What will Helsinki look like in 2035? What are people doing or plan to do about climate change? Transport, food, energy, social inclusion? A World with No Labels No Walls, what would that look like? Everyone is invited to comment. It's simultaneously playful and serious.
World without Walls
Five days at Oodi and I still feel like I've only scratched the surface of what is happening and what it represents.
What other cultural institution can do all of this? What places other than a contemporary public library, like Oodi, can host multi-generations, multi cultures, multi-needs in the one generous, shifting and delight-inducing space; held together, contained and embraced, by a library philosophy and practice grounded in an unflinching commitment to a participative demos.
It's utopian.
In the words of Tommy Laitio, Helsinki's Executive Director of Culture & Leisure:
"Libraries have this incredible promise – that you can build your future in here. You can be your best person inside this building."
Oodi is one of 37 branches in Helsinki. The city population is around 650,000. The total population of Finland is around 5.5 million. It was designed by Finnish firm ALA Architects, 2018. It cost around 100 million euros.
Reference: David Dudley (2019) 'How Helsinki Built Book Heaven', CityLab, November 1, 2019
Photo credits: Annie Talve, Jonna Pennanen, Kuvio